On Wednesday, the Nifty index, Niftybank, and Sensex opened higher. The market was traded in high volatility and settled positively. On the closing bell, the Nifty index holds 11600, Niftybank settled above 29450 and Sensex stays above 39000. The Nifty index gains 15.75 points, Nifttybank index gains 48.45 points and Sensex gains 95 points respectively.
Today, the Nifty index opened at 11596.20 went up to 11651.60 and closed at 11604.10 after making the low of 11554.40. The Niftybank index opened at 29478.85 and stayed volatile between 29643.80 to 29214.05 and closed at 29459.60. Sensex opened at 39063.84 made a high of 39196.67 low 38866.08 and closed at 39058.83.
As per our last view, 'if the Nifty index breaks below 11550 then it can fall towards 11500 to 11400 and if the Nifty index holds above 11550 then it will stay continue up in the coming days' and today the index fell till 11554 and moved up.
For the next day trading, if the Nifty index holds above 11550 then the upside movement will continue. If the Nifty index breaks below 11600 then it can fall till 11550 to 11500.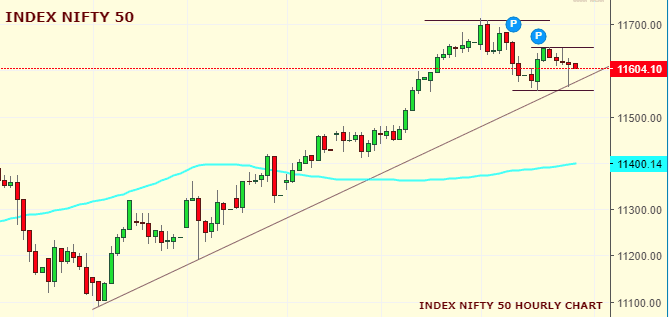 Above is an hourly chart of the Nifty index. From the chart above it can be seen that the index moving up following an uptrend line from 11090. It can also seen that the Nifty index facing resistance at 11710 and came down after touching it. Technically, if the index broked the uptrend line then the downwards trend bill starts.
NEWS HIGHLIGHTS
SEBI may prob the possibility of insider trading at Infosys.
Infosys CEO and CFO denied whistleblower's allegation.
Cabinet approves revision in fuel retail policy.
MSP for the selected crops has been increased.
Unauthorized colonies in Delhi will be regularised.
GOVT approves the merger of BSNL and MTNL says.
LT reports a 13% jump in Q2 net profit.
Risk of contagion in India's financial sector rising, warns S&P
IMF sees India FY21 GDP growth rebounding to 7%.
Bajaj-auto hits over 20 months high after a robust Q2 show.
Trading zone for the Nifty index on 24th October 2019
Upside Resistance:- 11655, 11700, 11795.
Downside Support:- 11600, 11550, 11500.
Nifty 50
In the Nifty 50, 30 stocks traded in green whereas the 20 were declined unchanged on 23rd October 2019.
Top 5 Nifty Gainer and Loser
| | | | |
| --- | --- | --- | --- |
| Gainer | % | Loser | % |
| HCLTECH | 3.53 | ADANIPORT | -6.10 |
| EICHERMOT | 2.51 | BHARTIARTL | -3.66 |
| INFY | 2.33 | ZEEL | -3.37 |
| MARUTI | 2.19 | VEDL | -2.18 |
| JSWSTEEL | 2.12 | GRASIM | -1.99 |
The most active value wise stocks were, INFY, YESBANK, RBLBANK, IBULHSGFIN, RELIANCE and the volume-wise were YESBANK, IDEA, RPOWER, INFY, IBULHSGFIN.
Advertisement
GSI Team is the technical expert team of Above Stocks, which is lead by the Aarish and works on giving the latest and accurate information about the Nifty and its prediction.